Process Information From Anywhere



TextPipe handles both text and binary files with equal ease. File formats you can convert and extract data from include:
HTML, XML and other structured documents from the WWW
Fixed length, CSV (Comma-delimited), Tab-delimited, Pipe-delimited, *-delimited files
Unix, Macintosh, Mainframe and PC/Windows end-of-line formats
ASCII, ANSI, Unicode and EBCDIC files
Inside Zip files, and the new Microsoft Office 2007 formats DOCX, XLSX, PPTX
Files with tagged data fields
Downloaded text files (e.g. news retrieval, financial, real estate)
EDIFACT, HL7 and other structured formats
Spooled print files
OCR output
Screen scrapes and captures
Structured and unstructured reports of any size or dimension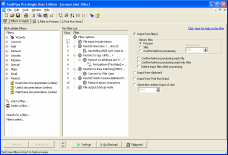 Manipulate text and data files in an endless variety of ways (Click to enlarge).



Lightning Fast Search and Replace



TextPipe offers a variety of powerful searches:
Exact search (including multi-line and binary character search)
'Sounds-like' search
Fuzzy search (great for finding typing errors)
Pattern or wildcard search
Search/replace lists and more.
The replacement text can include all or part of the original text or a re-arrangement of it, and the case of the replacement text can be automatically altered to preserve the case of the original text. The found text can be used as a constraint for further filters, such as by converting it to Upper Case, performing further search and replaces inside the replacement text or even a database or dictionary lookup.



Manipulate Precise Sections of Text



TextPipe can restrict changes to line ranges, column ranges, tab-delimited fields, CSV-delimited fields, lines matching a pattern and more. You can combine restrictions, for example, to alter a specific line and column range. You can also apply further text manipulations to the Replaced Text in a Search and Replace operation, such as by making the Replacement Text UPPERCASE.



Unlimited Power



TextPipe's frees you from worrying about memory size or disk space limitations:
TextPipe performs an unlimited numbers of manipulations in a single pass (e.g. 100 different search and replace operations)
There is no limit on file size - so you can process files larger than 10 Gigabytes
All files are processed without using temporary disk space - only the result file is output
TextPipe handles an unlimited number of files (e.g. corporate websites).

Manipulation Functions



Want to read more about our text manipulation functions? Click here



VBScript and JScript Custom Filters



Extend TextPipe by writing custom filters using industry-standard VBScript, JScript or other scripting languages. Use this to perform database lookups, insert data in Excel or Word or other non-standard processing. TextPipe can also call external programs to manipulate parts of the text.



Automation and Integration



TextPipe can be scheduled for automated lights-out processing, with audit logs tracking every step.

TextPipe can be automated via the command line (using the Command Line Wizard) or scripted via a COM interface, allowing TextPipe's text processing power to be controlled by programming languages such as Visual Basic, C++ and Delphi.

TextPipe can export filters to VBScript, JScript or a web page - which can be customized to make TextPipe even easier for less technical users by presenting a simplified GUI.

TextPipe integrates directly into Windows Explorer as a right-click menu for ease of use, and with a growing list of third party products.



Easy To Learn and Use



TextPipe includes many facilities to help get you started:
Filter Wizard to walk you through creating your first filters
Extensive tutorials and lessons introduce you to key concepts
Test your filters without affecting key data files
Debug Filter to see what is happening
Comment Filter to document your process
Library of more than 200 example filter files
Online FAQ (Frequently Asked Questions)
Online demonstrations for common tasks
Online discussion group where you can ask questions and talk with other TextPipe users
Microsoft® Windows® 11, 10, 8, 7, Vista®, 2019/2016/2012/2008/2003, x32 and x64.

Industries



We have over 1500 customers in 56 countries, across a variety of industries including Banking and Finance, Telecommunications, Utilities, Medicine, Law, Government, Publishing, Consulting, Systems Integration and Manufacturing.



Some of Our Clients



TextPipe is used by clients such as NASA, Boeing, Anderson Consulting, Lehman Brothers, Barnes and Noble, Commerzbank, Compaq, Symantec, Hewlett Packard, CompuServe, Ernst and Young, Johnson and Johnson, Nabisco, Siemens, San Francisco Chronicle and many other large organizations.