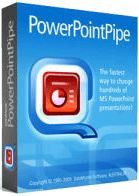 Microsoft PowerPoint (Office 365, 2019, 2016, 2013, 2010, 2007)
Microsoft® Windows® 11, 10, 8, 7, Vista®, 2019/2016/2012/2008/2003, x32 and x64
Fix Multiple PowerPoint Files in 60 Seconds!
Fix broken links and search/replace across large sets of MS PowerPoint slides
WordPipe, ExcelPipe and PowerPointPipe combined demo
PowerPointPipe Replace for PowerPoint is an easy-to-use tool to search and replace phrases across large sets of Microsoft PowerPoint presentations. Automatically
Fix broken links by migrating Microsoft PowerPoint hyperlinks when you rename file servers
Translate files by applying massive pre-written search/replace lists
Find and replace outdated logos, names, addresses and phone numbers
Also works with OpenDocument Presentation *.odp formats
Update tedious QMS and Business Process templates
| | |
| --- | --- |
| | Fix My Presentations Now |
PowerPointPipe is designed as a hands-off tool requiring next to no user intervention, as you would expect for migrating large numbers of files. It copes with a myriad range of Microsoft PowerPoint bugs, such as restarting Microsoft PowerPoint every 1000 presentations to avoid memory errors. It also copes with the largest variety of problem presentations of any tool, documents of any tool, from password protected to corrupted documents.
To use PowerPointPipe, you simply add a list of search/replace pairs, and for each one, specify where in the presentation it should be found. Then you tell it which files to process - that's it!